Alexander Heights Family Practice has a philosophy of caring and efficiency in the work environment, so as to enable a high professional standard of health care and a pleasant and satisfying environment for the patients, staff and doctors.
We are committed to providing on the day appointments to urgent medical problems. We have an open clinic should our doctors be fully booked. This is available for our patients on a walk in basis without an appointment. We also have emergency slots available.
Alexander Heights Family Practice provides a full range of services, treatment of acute and chronic medical conditions, preventative medicine, pap smears, contraception implants and IUD insertion and removals, skin checks, antenatal and paediatric care, minor surgery, ECG, spirometry, travel advice, injury management, vaccinations, sexual health services available on site. Other services include a dietitian, diabetes and asthma educator, psychologist and pathology collection point.
We are also a high quality training practice for GP Registrars along with students of medicine and nursing.
News
New Website
Our website has been updated. We hope you enjoy the improved experience!
Patient Experience Survey 2016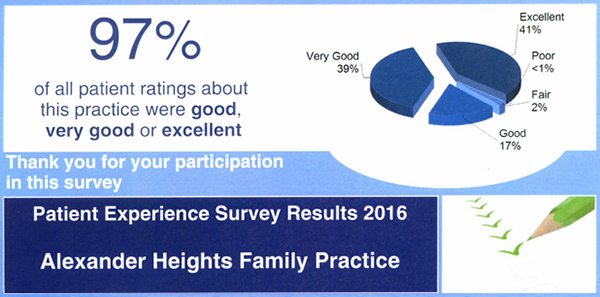 The feedback collected earlier in the year via our Patient Experience Survey has helped us work on providing the best possible service for our patients. The surgery has undergone a facelift with a fresh coat of paint and additional nurses station. We have also implemented procedures to minimise patient wait times.